Scuba Diving In Taganga, Colombia
There must exist the proper conditions to give way to the perfect opportunities. There had not been a more perfect set of events that led Farren, Jordan and me to obtain our PADI scuba diving certification.
Getting scuba certified was a high priority activity on Farren's bucket list and she invited us to join her in finding the perfect place to capitalize on this opportunity.
Our original plan was to get scuba certified in the tropical waters of Ecuador, but after conversations with fellow travelers at our hostel in Tayrona National Park, we were told about a place called, Taganga.
A small town on the coast of Colombia known for its hippie atmosphere and the abundance of insanely cheap Scuba Schools (some of the cheapest in the world).
We were sold!
We changed our itinerary, booked an Airbnb, and headed to Taganga.
As soon as we arrived we knew there was something special about this place, we could sense it in the air.
We walked to our adorable Airbnb, dropped off all of our bags, and excitedly headed out to explore and find the perfect scuba school for us.
As we walked down the beach vendors of all kinds from fruits to artisanal goods called out to us,
" ¡Morena morena mira lo que tengo!".
Waiters from the beachside restaurants shouted out the menu of the day and showed off their freshly caught fish, hoping we would decide to spend our money there.
It felt like every shop blasted bachata, cumbia, or reggaeton as if they were in a competition to see who could play their music the loudest.
As we continued on our search we could see people from all walks of life perusing the streets.
From frat boys on spring break to barefooted hippies selling their gems to the posh couple trying to get the perfect pic for the gram, they all seemed to have one thing in common.
They were enjoying the chill and colorful vibe of this beautiful little beach town and so were we.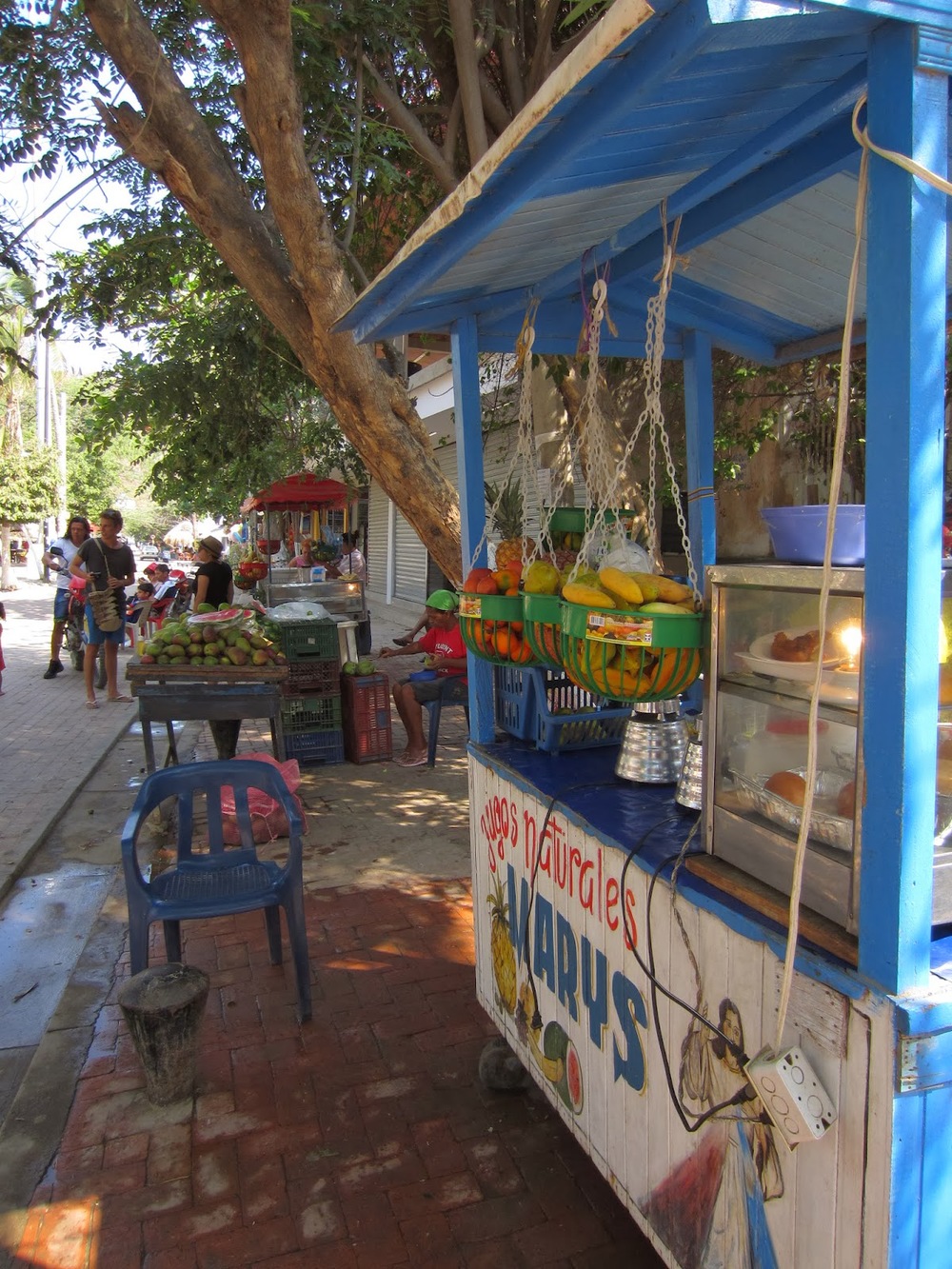 After a few hours of going into over a dozen scuba schools, asking about pricing, and assessing the overall vibe. We finally decided on the one we liked, Reef Shepherds.
The staff at Reef Shepherd were phenomenal. The receptionist was warm and friendly. The instructors were charismatic and competent, we knew we were in good hands.Plus, they gave us a great group discount.
We signed up for the 3-day open water course, paid about $250 per person (less than half of what it cost in Ecuador) and we were ecstatic to start our course bright and early the following morning.
By the time we finished signing up for our course the sun had set and the energy of the town completely changed.
It seemed as if the shops that were once void of customers during the day had now turned in to poppin' nightclubs.
Strobe lights, music, people dancing, it was LIT!
Vendors switched from selling fruits to deliciously fried and greasy snacks that were perfect for settling the stomach after one too many shots of Ron.
This is also when the dope boys came out in full swing. We were stopped about every ten feet by a different guy asking us if we wanted to buy " Cocaine, marijuana, MDMA, ecstasy, or acid."
We were shocked and yet equally impressed at the forwardness and menagerie of drugs they were making available to us. As tempting as these offers may have been we declined because we knew we needed to keep our minds sharp for our first day of scuba.
Instead, we decided to spend the evening the beach with some cheap beers, relaxing, and interacting with locals.
The next morning we returned to Reef Shepherd, bright and early. We were so excited for our first day of class.

Our instructor's name was Leo and he was amazing! He was kind, patient, knowledgeable, and endured all our sassiness and inappropriate jokes with ease. He played a very crucial role in making our diving course fun and memorable.
After a few hours of listening to his instructions on the proper use of equipment and watching a few safety videos, it was time to get into the water.
The girls and I each carried our 70 pounds of gear out of the shop and waded into the shallows of the Caribbean Sea to finally start diving.
The feeling of diving is most relatable to meditation in that it requires soft focus and deep intentional breathing.
The underwater world is silent.
As a dive team, we relied solely on hand signals taught to us by our dive master Leo.
Once we felt comfortable with the basic techniques we began to venture out and explore deeper waters.
At first, it's easy to become overwhelmed. The ocean is mysterious and holds so many untold secrets, which frightens most people.
It was easy to imagine a monstrous beast coming up from the depths ready to send the girls and I to our watery graves.
However, the breathing pattern necessary for scuba diving induced a calmness within me that caused all of my anxiety to dissipate.
We did not see any beast but we saw many beautifully colored fish, a stingray, a rockfish and a large moray eel.
Being in the same world as these creatures were indescribable.
I was connected with the ocean in those moments, experiencing the tides, the temperatures, and the aquatic life with the people I cared about.
We went on a total of six dives in three days. A physically grueling but enlightening task.
As we traveled by boat, to the different diving spots within the small bay I felt a deep camaraderie with my travel mates.
We were a part of the dive community. A community of people who took risks to explore the unknown and sought out adventure.